Virtual Assessment Center
Assessments anytime, anywhere to inform strategic talent decisions.
Our award-winning Virtual Assessment Center combines the latest in cloud technology with behavioral science and artificial intelligence. The result? A platform that modernizes hiring, succession planning, and leadership development. Enhanced operational efficiencies and reduced costs are a bonus.
What is a Virtual Assessment Center?
Pinsight's Virtual Assessment Center offers pre-hire and promotion assessments that can be taken anytime, anywhere. Combining personality, learning agility, and live role-play simulations, we produce a seamless user experience and invaluable, unbiased talent insights.
Key Pinsight Assessment Center Benefits
Consistent
Our web-based, end-to-end technology platform can be accessed anywhere in the world. No downloads or additional software is required. Consistent deployment ensured.
Efficient
We are the fastest assessment center offering. In just 72 hours, you can invite candidates and receive results. This window includes scheduling, live role-plays, and scoring.
Scalable
Available in multiple languages and every time zone, Pinsight assessments are globally scalable. Candidates schedule their own assessments at a time that works for them, even during off-hours and weekends.
Pinsight Features
Virtual Assessment Center
Implement flexible, affordable, and scalable high-touch leadership assessments with Pinsight's Virtual Assessment Center. We combine live role-plays with artificial intelligence to produce the most accurate, unbiased, and engaging leadership assessment.
Customizable Reporting
Make strategic decisions with the most useful information. Customize reporting based on your own internal competency models, employer brand, language, and the preferences of different hiring teams and stakeholders. Flexible reporting options ensure data reaches the right audiences.
Comprehensive Analysis
Go beyond a static PDF assessment report with our People Analytics platform. We provide nuanced insights and trends with interactive, comparative group-level analytics. Reporting options include comparisons of employees' leadership readiness, 9-box placement, training needs analysis, bench strength, and so much more.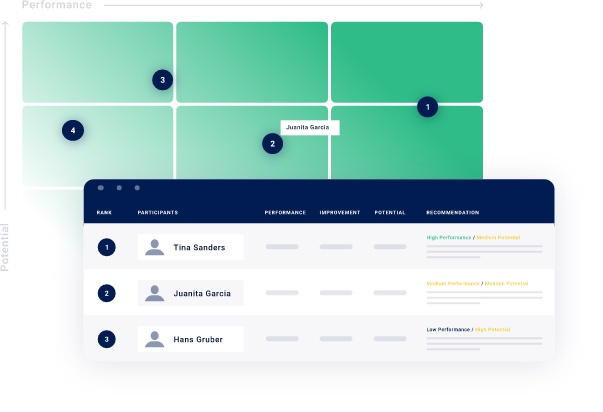 Development Support
Turn assessment insights into action. The Pinsight App empowers employees to build new habits and create lasting change in short daily bursts. Participants and administrators can track improvements in real-time as habits become mastered skills.
Meet our experts in people insights.
Pinsight was founded to help organizations across the world make strategic talent decisions with scalable, cost-effective, efficient leadership assessments.