People Analytics
Transformational talent insights at your fingertips.
Understand your talent landscape with trusted insights and powerful analytics. Unlock potential and invest in leaders with the data you need to make high-powered organizational decisions.
What are People Analytics?
Pinsight delivers benchmarked people analytics, providing talent insights at the individual and organizational levels. Understand current leadership strength, team growth potential, and organizational development opportunities to drive strategic workforce planning and make effective talent decisions.
WHAT WE MEASURE
Behavior
We directly observe leader behavior during live simulations to measure performance in key leadership competency areas.
Personality
Our assessment identifies individuals' motivation to apply leadership skills and how leaders will impact overall team dynamics.
Agility
An agility test evaluates how leaders prefer to learn, providing insight into one's potential to close skill gaps.
ANALYTICS TO INSIGHTS
Performance
Filling a key role? Identify top performers and measure leadership readiness. Keep a pulse on the strength of your talent pipeline with easy group comparisons.
Potential
Plan for future promotions and leadership succession. Our platform provides valuable data for identifying leadership strength and potential.
Development
Bridge individual and team skills gaps. Accelerate growth with personalized plans via The Pinsight App, designed with the science of habit formation.
People Analytics Features
Comprehensive Analysis
Go beyond a static PDF assessment report. In 24 hours we provide nuanced insights and trends with interactive, comparative group-level analytics. Reporting options include comparisons of employees' leadership readiness, 9-box placement, training needs analysis, bench strength, and so much more.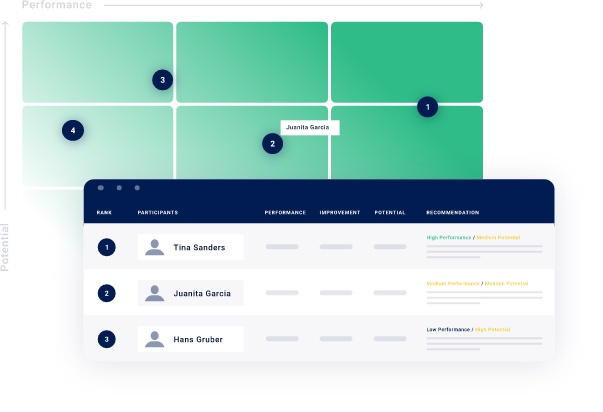 Customizable Reporting
Make strategic decisions with the most useful information. Customize reporting based on your own internal competency models, employer brand, language, and the preferences of different hiring teams and stakeholders. Flexible reporting options ensure data reaches the right audiences.
Development Support
Turn assessment insights into action. The Pinsight App empowers employees to build new habits and create lasting change in short daily bursts. Participants and administrators can track improvements in real-time as habits become mastered skills.
Meet our experts in people insights.
Pinsight was founded to help organizations across the world make strategic talent decisions with scalable, cost-effective, efficient leadership assessments.